Product: CoC Left-Turn Spring Gripper
Rating: 4.9 out of 5 stars
Price: $27.95 + FREE Shipping
Place to Buy: Amazon
---

View Product On Amazon
---
Classical Spring Gripper – 4 different resistance levels
Knurled Handles – Aggressive handles to toughen palms
Very Durable – Made of billet aluminium & alloy steel
High Quality – Designed for Superior performance
CoC Left-Turn is a Classical Spring, Left Hand Gripper for High-Intensity, Low-Volume, Single-User Grip Training
A Lefty Gripper, Specifically Designed to Get Your Left Palm, Fingers & Forearm Stronger & Healthier
Captains of Crush Left-Turn, by IronMind
Product Overview
CoC Left-Turn is a new innovation – Essentially a mirror image of Captains of Crush gripper to train your left hand.
It's about spring positioning: If you use right hand gripper in your left hand, you'll notice the twist of the axis of the
gripper changes. Some folks find it feels different & perhaps even harder to close a gripper device.
To make things even for your left hand & train it the same way you're training your right hand, IronMind decided to
build an entirely new gripper that looks like & technically is the Captains of Crush gripper, with one difference: It
uses left-wing spring, making it a perfect fit to train left hand. Left-Turn is a mirror image of Captains of Crush.
Whether you're weight lifter, rock climber, wrestler, motocross driver, strong grip is a must to be on top of your game.
Like your regular Captains of Crush, CoC Left-Turn has very high quality. It's made of aircraft grade billet aluminium
& alloy steel construction giving it superior performance. Made by IronMind, an industry leader since 1988.
Manufacturer also offers a 1-year warranty to their world famous spring grippers, in case you manage to break one.
What are the Pros & Cons with Captains of Crush?
Knurled Lefty Gripper
Pros:
Lefty Gripper – One of the few grippers available that uses left-wing spring which is specifically designed to train your left hand the same way you would train your right hand.
High Quality Product – A professional grip training device, that is designed for low-volume, high-intensity training. Hand crafted device with aircraft grade aluminium & alloy steel.
Superior Performance – A grip device that is built in a way to boost your forearm strength for maximum amount possible in shortest window of time.
4 Different Resistances – You can find suitable match for your regular Captains of Crush gripper to mimic the same training sensation in both hands. There are resistance levels from beginners to experts (100-280 lbs).
Very Durable – Like all CoC gripper, this one is completely made of metal parts to give it maximum durability – You'll find no plastic parts that can degrade, chemically deteriorate or break over the time.
Aggressive Knurled Handles – One of the biggest part to get your grip stronger is also getting the skin of your palms tougher. CoC gripper knurling tears up the palms of your hands to help them to get much stronger overall.
Portable – Simply put one into your pocket or leave into your office desk drawer. You can throw one into your training bags as well once you hit the gym. It's a small device, so you can always have one near & never miss your grip workout.
Easily Maintainable – Like most things made from metal, this gripper will oxidize in humid climates. To avoid rusting you should wipe spring occasionally with a drop of light oil to make it move smoothly, prevent it from squeaking & breaking. Also, knurled handles can be cleaned with a stiff nylon bristled brushes.
1-Year Warranty – Your grippers will be replaced free of charge if they fail during proper use within one year of the date of purchase. To claim replacement, both gripper & proof of purchase must be returned. Improperly used, modified or damaged grippers are not warranted.
Cons:
Designed for One Hand – This model is designed to train your left hand first & foremost. Meanwhile, it's still excellent for training both hands, with slightly different feeling when training your right hand. In most cases, it's a minor detail that most folks won't notice at all – If you seek maximum comfort, performance & precision, for right hand training I'd recommend to use regular Captains of Crush line grippers to complement your CoC lefty gripper.
One Resistance Level Per Gripper – Compared to adjustable hand grippers, CoC is a static one-difficulty-only per gripper type of training tool. If you're serious about getting stronger & to get maximum out of your training progression & to have more variety it likely requires more investment from your side to access grippers with different resistance levels.
Technically No Cons – It's a classical hand gripper with superior quality & does exactly what it is designed to do – To get your grip strength up for maximum amount in minimum time. From technical part, you should know there are no real noticeable flaws in this device.
Captains of Crush Left-Turn - Ranking 98 out of 100
How Can You Benefit from Captains of Crush?
Fastest Way to Build Crushing Grip
Improve Your Finger Tendons Strength – This is one of the most important aspects of your hand health & strength: The actual hands ability to support the workload of activities & exercises you're regularly performing. Using hand grippers helps you to gradually build tendons strength to work on more difficult exercises.
Build Maximum Crush Grip Strength – Squeezing objects between fingers is one of the 4 major hand movements & it's called cruch grip – To grab an object most of the time you use this type of grip. Hand gripper is the absolute best way to quickly improve your crushing grip.
Improve Static Support Grip Strength – Gripper can be used when you squeeze the handles together & then hold them closed as long as you can. This is extra important exercise for you if your main training equipment is barbell for example – Training like that allows you to hold bigger weights & for longer periods of time.
Get Your Palms Much Tougher – If you haven't trained in gym or with grippers before, beware the aggressive knurling on this gripper will beat your hands up & it will do so very quickly. This is a good thing – This is how your palms get stronger. The key is NOT to use fitness gloves, throw them out of window & get your palms stronger instead.
Build Well Conditioned Grip – One of the most important details to be on top of your sport is to have a better grip. Having an overall stronger, less fatigued grip helps you to perform your workout routines more effectively, as well as give bigger advantage in competitions.
Protect Hands from Injuries – Having a bit more muscle is excellent – Muscles act like cushion to protect our body. By increasing your functional strength as well as overall muscle mass grants you healthier hands & greatly protects you from possible injuries. Staying injury-free is prio #1 regardless of your sport.
Chance to Get Certified – Training with tougher CoC hand grippers & eventually closing them offers you & leads you to an opportunity to become renown in grip strength world. Closing CoC #3, #3,5 or #4 gripper is considered a great feat of strength – You will receive a diploma & your name will be written into IronMinds catalogue.
CoC is the Gold Standard of Grippers – The Single Best Grip Training Tool You Can Use
Excellent hands, palms & forearms training device
Product Specifications:
Dimensions: 5 x 4.5 x 0.8 inches/ 12.7 x 11.4 x 2 cm
Shipping Weight: 7.8 ounces / 221 grams
Handles – Knurled, aluminum handles
Materials: Billet aluminium & alloy steel
Quantity – One (1) gripper
Resistance Levels – Four (4)
Manufacturer: IronMind (USA)
CoC Left-Turn has superior design – It's precise, with no
surprise geometry. It's consistent across the board.
CoC grippers are well engineered, completely built with metal
parts: Steel & aircraft grade aluminium to be durable. Unlike
cheap plastic grippers, CoC spring won't wear out.
CoC grippers are easily portable – Put one into your pocket,
or throw into your training bag once you hit the gym.
Captains of Crush Lefty grippers can be used for variety of exercises
that builds crush grip strength & static support grip
Who Can Benefit from Captains of Crush?
Any Athlete – Men & Women, Older & Younger
Gripper training is excellent for both, beginners & experts alike to get your grip stronger, or even stronger than it already is.
Younger or older, man or woman, casual trainee or hardcore athlete, training grip is giving you functional strength that you
can use & likely will use every single day. In most sports, the very first point of contact with object is literally through your
fingertips. Doesn't matter if you're holding a basketball, baseball bat, golf club or weightlifting barbell..
The more functional strength you have in your hands, the better the performance in your respective sport likely will be.
Toughen Your Palms With Captains of Crush
Avoid Fitness Gloves
Why should you always avoid excessive use of fitness gloves? Many folks rely entirely on gloves when they hit the gym & as
a result they usually have extra weak palms. Gloves are a "foreign" objects (between your palms & a weight you're lifting)
that directly prevent your palms getting stronger.
If that's the case, once you take off your fitness gloves & touch the first barbell or dumbbells you see, you're going to shred
the palms of your hands almost instantly. Your hands definitely start aching & in the long run you likely get blisters.
So, how do you solve that problem? No, you don't put your gloves back on – Captains of Crush has aggressively knurled
handles that is specifically designed to toughen the palms of your hands. Keep training, your hands get stronger, simple.
Gradually, over the period of weeks & months, while regularly exercising with grippers, skin in your palms will toughen
up. It's one of the key parts to be able to perform more strenuous exercises with bare hands.
Unless your hands are injured, OR you've already worked your hands to limit, you have no excuse OR likely no practical
reason to use fitness gloves – You always want to put fitness gloves away & work with bare hands for functional strength.
Are IronMind Grippers Good for Rehab?
Great Grippers for Recovery
IronMind offers 4 different types of grips along with Captains of Crush that you can use for your benefit, with multiple
different resistance levels to cover all your training needs & routines, including the rehabilitation part.
Getting in better shape as well as nuturing injuries are important, inseparable parts of your hand health. Whether you're
trying to get your strength back up for your recently dislocated finger, or trying to treat repetitive strain injury like Tennis
Elbow, proper gripper can be an excellent way to go.
To deliver you the all-round-package IronMind has created left hand gripper, smooth gripper & also a thumb gripper.
As always, for rehab purposes & for hand health in general, having balance is key for getting much stronger in functional
strength department. I recommend to pair up your gripper training with extensor training – For that task you can use
rubber hand bands to work on counter-movements to balance your hand muscles.
Extend-Your-Hand Bands are excellent addition to your grip training, whether you're using one, two or multiple different
grippers in your training routine. They're inexpensive & they keep your hands pain-free. If not sure, you can ask any
qualified physio-therapeut, chiropractor or relevant doctor, they'll all say using hand-bands is likely excellent way to go.
What Grip Training Resources Can You Use?
Top 4 Books to Train Your Grip
Simply work with hand grippers & specifically specialize in them, or up your entire game by learning new exercises along
with crushing grippers. Among these authors there famous names, like Tommy Heslep, who is one of only five people in
the world who  have certified for IronMind's Captains of Crush #4 Gripper. Learn it all from the experts if you like.
Your Grippers Quality is Paramount
Why Should You Always Choose a High-Quality Gripper?
Consistency & Precision
It can happen, that after couple of weeks of using a cheap plastic gripper you're going to close it like a champion. It likely
gives you a feeling that you've progressed so much already in such a short time. Have you? And another thing..
If you're a realist you know it's clear as day that nothing is invulnerable – If you try hard enough, you can break CoC grips
as well – That usually happens only when you maintain your equipment poorly: For example, storing grips in too humid
conditions, not keeping equipment clean OR on top of it, modifying or exercising improperly with your gripper.
1The reality is that cheap grippers spring will wear
out quickly. It keeps getting weaker & weaker.
Meanwhile you're getting stronger, cheap gripper spring
is getting weaker. In short: They're likely inconsistent.
Inconsistency often includes their geometry: Uneven
handles, spring positioning. Small but effective nuances.
2Another problem is that cheap gripper springs
tend to snap easily. That's a safety issue for you.
There's a chance that you'll injure yourself, especially
when spring snaps in the middle of the exercise
& you'll get hit by the shards of broken spring.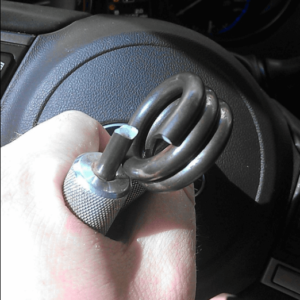 It's better to invest into high quality hand gripper – They are consistent across the board & there is much less chance for
equipment failure. In addition being well engineered, there is no surprise geometry, so you can monitor your results more
precisely. You'll get quality, train like a professional & eliminate guess-work from your workout routines.

Thanks for Stopping By!
I hope you enjoyed reading my review & learned couple of new things about CoC Left-Turn along the way.
Have you used a lefty spring gripper before? How's your training experience?
I'd love to hear from you!
Feel free to ask for my assistance & share your thoughts by leaving a comment.
Cheers,
Henry