Who Am I
Welcome to Improve Your Grip
Hi, nice to meet you! I'm Henry, a friendly fellow who started this website to help you.
Sharing my passion, everything that is related to improving grip.
Healing injured hands, building functional strength, fighting various forms of ailments like arthritis.
I am glad you're here. Regardless of your level of expertise, I am ready to assist you & share my insight to encourage you to improve both mentally & physically, offering you various ideas & directions to take on.
Your questions are valuable. Please ask if you got one & remember, comment sections are always open.
I'd also like to be upfront & transparent with you. Most of the stuff you find here will be similarly formatted as review style blog posts for ease of use. Compressing & compiling all the necessary data I've found through the research to be readily accessible for you to help you in a meaningful way.
Doing all the legwork for you, chasing down pertinent information so you won't have to.
Down the road, would love to have you consider this place a reliable go-to gripster hub where you can quickly gather multiple pointers & locate various innovative devices that you can potentially benefit from.
Let it be a starting point of our journey together.
A Little Bit About Me
Maybe you're wondering, what am I doing right now?
Likely crushing a set of grippers while you're reading this because they're fun & effective.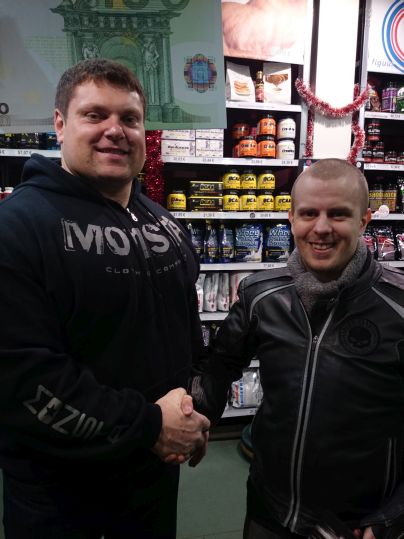 Had an Honor to Shake Hands with
the Legendary Strongman Big Z

Yes indeed, I'm fascinated with strength sports. I am a fitness enthusiast, powerlifter & martial artist. I am influenced by strongman scene & therefore, first & foremost interested in functional strength itself & in overall approach I put a little less emphasis to proportional illusion of it.
Nevertheless both are equally important. Naturally, you want to appear looking good while being strong. In athleticism I value mental toughness & fortitude as well as physical abilities. Curiously, we're only as strong as our weakest link. Healthy, strong grip is a prerequisite to no nonsense type of capable physique.
About This Site
Part of this site is also me being a veteran member of Wealthy Affiliate. In case you're curious how exactly this website was, has been & will be built in future. And maybe you like to start your own thing. That's how.
In my case I am just an individual, not a company. Starting with absolutely no kind of prior knowledge how to do any of this. And now actively sharing my passion with you what I love to do in this life & it's been fantastic.
Thanks for Stopping By
Have Questions?
Please Send Me a Message