(Last Updated On: November 22, 2023)
EXT 90 –
Name: GD Iron Grip EXT 90
Type: Adjustable Hand Gripper
Rating: 4.8 out of 5 stars
Place to Buy: Amazon
Adjustable – Six (6) resistances, 55 to 198 lbs/ 25 to 90kg
High-Quality – Good Design, Smart yet Simple Structure
Superbly Engineered – Ergonomic, fully built with metal
Includes Add-Ons – Extend the length of the handles
GD Iron Grip EXT 90 – Review
Overview, Details & Everything Relevant You Need To Know
What is GD Iron Grip EXT 90 Adjustable Gripper?
Overview:
GD Iron Grip EXT 90 is beautiful yet robust, silent yet sturdy, rough yet ergonomic & has exceeded my expectations.
Perfect craftsmanship, high-quality, solid & more importantly, adjustable – Probably the only gripper you'll ever need.
I personally really like this hand gripper since it covers most aspects you would seek in a hand strengthener such as this.
Technically, with one single gripper such as EXT 90 you'll get 6 different grippers – Excellent to cover all of the aspects of
a perfect workout – Warm-up, working sets, challenge sets, cool-down sets.
It's also on bar with famous Captains of Crush grippers that are deemed as the gold standard of hand grippers.
Meanwhile, EXT 90 has also quite aggressive knurling compared to CoC grippers – Prevent it from slipping in your hand
to get a solid grip workout in conveniently & effectively.
What are the Pros & Cons with EXT 90 Adjustable Gripper?
Superbly Engineered
Pros:
It's Adjustable – Includes six (6) different resistance levels – By far the biggest advantage! Forget about buying multiple grippers, you need only this one, unless you're a grip training enthusiast like me.
High Quality – Built like a tank, sturdy, beautifully designed, & brutally effective – A gripper you likely have to buy once only, since it will last you for years.
Doesn't Squeak – It's sturdy yet silent, & its spring does not squeak nor make weird noises. Train even in silent library if you want, without pissing off people around you.
Ergonomic – Well designed, fits well in your hand & provides support for your hands to train your crushing grip strength effectively, without injuring yourself.
Knurled – Adding a top-notch look to your gripper as well as provides aggressive enough knurling on palm side to prevent your hand from slipping on handles.
Includes Extensions – Handle extensions are being added to make handles longer & to help you get better grip in case you have bigger hands.. or, in case you want to add & have more challenging approach. 
Cons:
Requires investment – This hand gripper is obviously on the expensive side. You should take your time, & think it through if you need one: Consider it as investment. It's 6 grippers in 1, thus expensive, yet well worth its price.
Handles don't touch – Not really a con, but just putting it out here: Unlike most grippers, this one is designed in the way its handles won't touch completely & grind against each other. It doesn't affect range of motion necessarily but provides slightly different feel.
May be too tough for beginners – If you're a complete beginner, this one can be a tough nut to crack. The easiest resistance level begins at 55 lbs / 25 kg.
EXT 90 Adjustable Gripper - Ranking 96 out of 100
Why, in fact, EXT 90 Gripper is inexpensive?
Six Grippers in One
Iron Grip has wide, adjustable resistance – 55 to 198 lbs (25 to 90kg) – Plenty of progression room from beginner to expert. Owning the Iron Grip Adjustable Grip 90 EXT is like owning six separate metal hand grippers.
EXP 90 costs around $75, if we divide this with 6 there you have it, it's technically $12.5 per gripper. That deal is pretty crazy considering the high quality. For example, if you take a look at Captains of Crush grippers, which are one of the best grippers available, you can get one for $25. In other words, EXT 90 gripper is about 2 times cheaper considering the sheer value.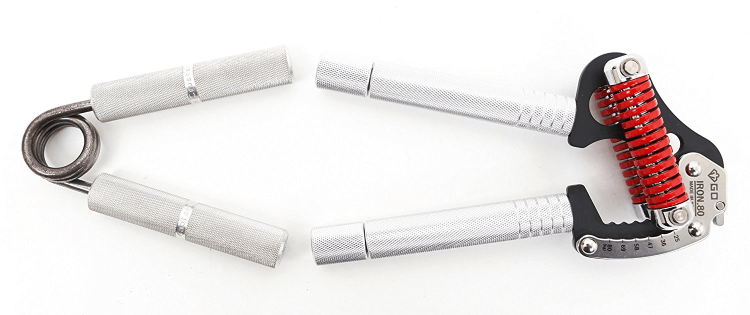 The EXT Adjustable Grippers Axis of Handle is Not Twisted
Excellent for Training Both Hands
Compared to regular classic spring grips, the EXT grip's axis of handle is not twisted.
It's a peculiar innovation for GD line of grippers.
Most Regular Grippers Have Right-Wing Springs
So what does that mean for you? First & foremost comfort, but in my opinion more versatility. Instead of getting specialized grippers for both hands, such as right-wing & left-wing spring grippers, you can use EXT grippers in both hands & they feel pretty much the same way. It's has a more ergonomic design than most other grippers can offer you.
A right-wing hand gripper, designed for right handed crush grip training – Captains of Crush – The Gold Standard
A left-wing hand gripper, designed for left handed crush grip training – Captain of Crush Left-Turn Gripper
There are Two Versions of EXT Adjustable Grippers With Handle Extensions
Black & Red
EXT 90 (Black),
by GD IRON GRIP
Resistance levels are
25 kg (55lb) to 90kg (198lb.)
Stage 1. 55lb (25kg)
Stage 2. 84lb (38kg)
Stage 3. 112lb (51kg)
Stage 4. 141lb (64kg)
Stage 5. 170lb (77kg)
Stage 6. 198lb (90kg)
Stage 1. 55lb (25kg)
Stage 2. 79lb (36kg)
Stage 3. 104lb (47kg)
Stage 4. 128lb (58kg)
Stage 5. 152lb (69kg)
Stage 6. 176lb (80kg)
EXT 80 (Red),
by GD IRON GRIP
Resistance levels are
25kg (55lb.) to 80 kg (176 lb.)
EXT 90 Adjustable Gripper Includes Handle Extensions
Make it More Challenging
This is pretty straightforward upgrade to your gripper & is exactly as it sounds:
Make the handles of this adjustable gripper even longer.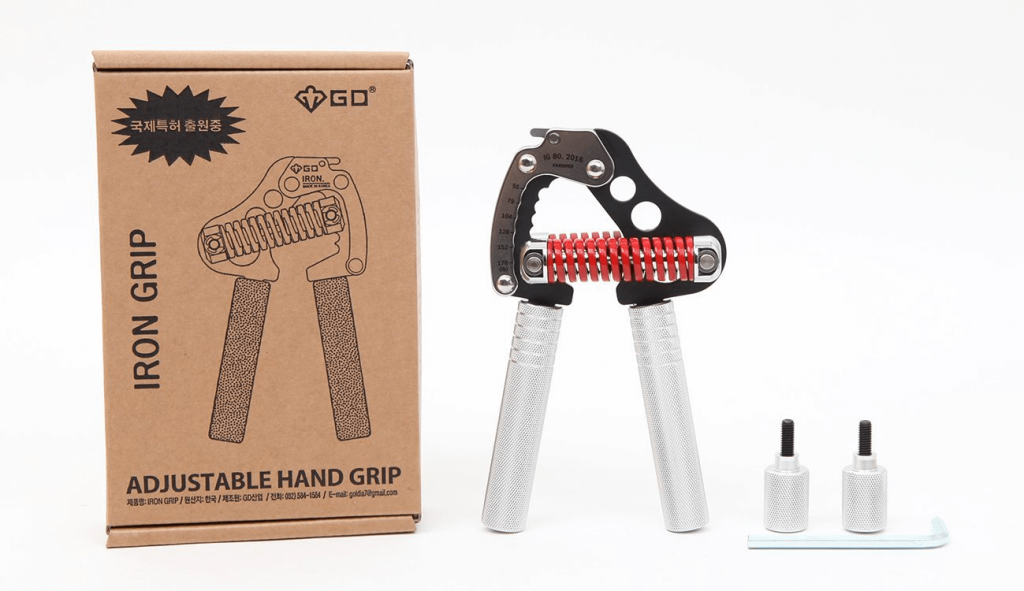 1
This is great option in case you're an individual with larger hands. There are plenty of bigger & stronger guys out there, with extra large hands, who are doing repetitions with hand grippers using only 3 fingers & thumb to squeeze.
By making handles longer you don't have to neglect your pinkie finger anymore & you can utilize it along with your other fingers. It's great & leaves no excuses to get the maximum out of your grip workout.
2
Another possible upgrade with longer handles is to make a gripper more challenging – It's depending on how you place gripper in your hand. Also, this can & will vary a bit from person to person depending on their hand sizes.
If you're are person with smaller hands, then you have a lot more options & room to play around. A great way to get creative & challenge yourself in numerous different angles & starting positions to close the gripper.
3
Also, longer handles are excellent, if you can't close a gripper on higher resistance level yet & you're doing negative repetitions. Longer handles are great to help you to close gripper with two hands & practice negative repetitions.
In fact, if you're serious about getting to the next level in your gripper game, doing negative repetitions are not only necessary but a big part of your grip strength progression. Having longer handles on gripper is definitely a positive & effective contribution you don't want to miss out on.
Why is Your Hand Gripper Quality Important?
Avoid Injuries & Be Consistent
Durability – Cheap plastic grippers spring tend to snap much more easily. You might get injured as well if spring shatter in splinters. Here's number one reason to take a bit more expensive route. Quality product ensures less hassle through equipment failure. Invest smarter, avoiding unnecessary injuries caused by faulty devices as much as possible.


---

Consistency – Cheap grippers spring wears out quickly. Let's say you're buying a cheap, hard to close100-lbs plastic gripper. Couple of months later you're closing it for reps like a master, making you feel like you've made a lot of progress. Wrong, the reality is that gripper spring just wore out. To monitor your progress, high quality gripper is a must.
Thanks for Stopping By
Have Questions?
Please Leave A Comment