Product: 

SelectTech 560

 Adjustable Dumbbells (Pair)
Price: $499 + Shipping
Best Place to Buy:

Amazon

Rating: 3.5 out of 5 stars
---
Short Product Description:
---
Adjustable –  10 to 60 lbs/4.53 to 27.21 kg each
Space Efficient – Excellent Solution for Home Gym
Rapid Weight Changes – Switch Exercises Quickly
Unique Dial System – Combines (15) Sets of Weights
SelectTech 560 Adjustable Dumbbells - The World's Smartest Dumbbells With Integrated Bluetooth Connectivity
Counts Your Repetitions, Plus Records Your Working Sets & Used Weights
SelectTech 560 Adjustable Dumbbells by Bowflex
Product Overview
Replaces up to 30 dumbbells & counts your repetitions – SelectTech 560 Dumbbells are technology gone berserk.
Like other SelectTech dumbbells, simply turn the lever & start your exercise, it's that easy. However, this one also
has integrated Bluetooth connectivity syncs that records your sets, reps & weights. Crazy, right? Usually you have
to be the one who's counting the repetitions, this time your dumbbells are doing it for you..
..plus it remembers your number of workout sets & the weights you used along the way as well. To make it even
better, this luxurious dumbbells set has awesome grip that feels better than most dumbbells you've used. It's
built to be solid & sturdy, when holding SelectTech dumbbells in hands it doesn't feel like they're coming apart.
Exceptionally quick weight changes are the name of the game here. Simply turn the built-in dial to change weights,
no regular style dumbbells weight changing routine where you end up spending minutes before you get to the new
set or exercise. SelectTech dumbbells really speed things up if you seek added comfort & swift weight changes.
One of the most important features of SelecTech 560 is that it replaces your entire rack of dumbbells – An excellent
solution for your home gym if you need to save up space & don't want to have dozens of dumbbells lying around
your home. You'll have access to large variety of different sets of weights by using only one pair of dumbbells.
Manufacturer offers 2-year warranty on mechanical parts & 1-year warranty on electronic parts.
What are the Pros & Cons with SelectTech 560?
Rapid Weight Change
Pros:
Integrated Bluetooth Connectivity – Literally worlds smartest dumbbell – One of the main features of SelectTech 560 is that helps you to count repetitions as well as record the number of your working sets & weight settings that you have used during a workout.
Rapid Weight Changing Mechanism – Changing weights rapidly is another unique specialty feature of this training equipment that allows you to switch weights within few seconds. Extremely useful function to switch from one training set to other, from one exercise to another without taking any extensive, time-consuming weight-changing breaks in between.
Very Well Built – SelectTech 560 has an innovative, cubic-style design, covered from end to end with sturdy plastic molding to make the device both more durable & your workout quieter.
Comfortable Grip – Certainly one of the best grips, these dumbbells feel good in hands due to nicely designed anti-slip, ergonomic handles that provide comfortable grip.
Saves Up Space for Home Gym –  Essentially, SelectTech 560 replaces an entire rack of dumbbells for you, up to 30 dumbbells. Instead of having dozens of dumbbells lying around your home, you can use one single set of SelectTech dumbbells that provide you with access to a wide range of different weight settings.
Comes With Warranty – Manufacturer offers 2-year warranty on mechanical parts; 1-year warranty on electronic parts.
Wide Array of Weight Sets – Combines 15 different sets of weights into one dumbbell, weights ramp up from 5 pounds to 60 pounds for each dumbbell.
Small Weight Increments – There are 2.5 pound increments up to first 25 pounds. Small weight increments are very beneficial, for example if you intend to use super-set type of routine in your workout that requires multiple small weight jumps.
Saves Your Money – Technically, if you're planning to get multiple or even a whole rack of dumbbells, it will be cheaper for you to buy one pair of SelectTech dumbbells than 30 different dumbbells.
Cons:
Sturdy yet Delicate – No dropping! SelectTech 560 Dumbbells consist sturdy plastic parts, electronics, locking mechanism & its life span can be greatly reduced if you drop these weights. Be careful & beware, especially if you happen to be the "hulk-smash" type of trainee who likes to carelessly throw dumbbells on the floor. If you have such "bad" habits you certainly will end up breaking these types of dumbbells sooner or later no matter how robust set you happen to receive.
Mixed Feedback Towards Customer Service – Quick service & well mannered responses yet some customers have claimed that customer service is unreachable & they've had issues to claim warranty.
Expensive – You should consider this one as an investment: If you aim to buy multiple dumbbells in one, it's well worth every penny since you get up to 15 dumbbells in one fancy package. On the other hand, SelectTech 560 is rather a luxury item than your everyday sturdy workhorse, especially if you don't need such a wide array of weight options.
Knock-Off Alert – Keep your eye out & pay attention to details to confirm it indeed is a genuine set of SelectTech 560 Dumbbells that you received not some random Chinese replica. Check for approved, trusted distributors to avoid the hassle of returning a faulty product & to be aware of fake sets that are being sold.
SelecTech 560 Adjustable Dumbbells - Ranking 70 out of 100
What are the Possible Exercises You can Perform with SelectTech 560?
Train All Major Muscle Groups
Leg Exercises:
Wide squats
Calf raises
Stationary lunges
Stiff-leg dead lift
Reverse lunge
Side lunge
Abdominal Exercises:
Ab crunch
Reverse crunch
Lying trunk rotation
Twisting side crunch
Lying leg raise
Chest Exercises:
Flat chest press
Incline chest press
Flat fly
Incline fly
Decline chest press
Back Exercises:
Alternating rows
Wide row
Dead lift
Shoulder Exercises:
Standing shoulder press
Lateral raise
Seated overhead press
Front raise
Rear delt row
Shrugs
Arm Exercises:
Standing curls
Concentration curls
Incline bench curls
Scott curls
Overhead triceps extension
Triceps kickback
Lying triceps extension
Hammer curls
To Help You Get Started – You can Download Free Bowflex SelectTech App
It's Excellent for Beginners: Follow Trainer Lead Workouts, Journal Your Workouts & Build Custom Workouts.
Dumbbells adjust from 5 to 60 lbs; adjusts in 2.5 lb increments up to first 25 lbs & 5 lb from 25 lbs up to 60 lbs.
Weight (Each): 60 pounds / 27.21 kg – Weight Range: 5 to 60 lbs (2.26 to 27.21 kg) for each dumbbell
Weight Settings in pounds: 5, 7.5, 10, 12.5, 15, 17.5, 20, 22.5, 25, 30, 35, 40, 45, 50, 55 and 60 pounds
Weight Settings: 15 –  Combines 15 sets of weights into one, using a unique dial system
Dumbbell Dimensions (Each): 29.5 inches long, 17.5 inches wide & 20 inches tall
Dumbbells total Weight: 120 pounds
Shipping Weight: 130 pounds
Manufacturer: Bowflex (USA)
It's ideal Strength Workout Solution for Home to Save Space – Innovative Pair of 560 SelectTech Dumbbells
Combines 15 sets of Dumbbells into One by Using a Unique Dial System.
Accommodate Your SelectTech 560 Dumbbells Efficienty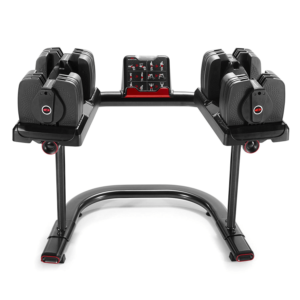 Combatible with all SelectTech Dumbbells: ST 552 / ST 1090 / ST 560
Includes a large media rack with Teflon grip to help to ensure your smart device stays in place
Ergonomically designed to help you to pick up heavy weights & protect your lower back
How Do You Compare SelectTech Dumbbells?
More Weight, More Settings
Image
Model Name
 Bowflex SelecTech 552
Bowflex SelecTech 1090
Bowflex SelecTech 560
No. of Exercises
30+
30+
30+
Bluetooth Connectivity
No
No
 Yes
Performance Tracking
Bowflex SelectTech App
Bowflex SelectTech App
Bowflex SelectTech App
Weight Range
5-52.5 lb per dumbbell, 2.5 lb. increments up to 25 lb.
10-90 lb. per dumbbell
5-60 lb. per dumbbell, 2.5 lb. increments up to 25 lb.
No. of Settings
15
17
16
Compatible Stand
Bowflex SeletTech Stand with Media Rack
 Bowflex SeletTech Stand with Media Rack
 Bowflex SeletTech Stand with Media Rack
Click for Info
 

Read Full Review

Read Full Review
Verdict – Should You Get A Pair of SelectTech 560 Dumbbells?
They Are Awesome
If you're looking for adjustable dumbbells & can afford these, they're hands down one of the best options out there.
They are pricey, however you are paying for premium product that grants you an ability to adjust weights easily &
not have multiple dumbbells cluttering your home. If you're going to end up using them for hundreds of hours,
their value goes up since you're saving both space in your home & money by not buying multiple other dumbbells.
Also, 60 pounds is plenty to go around & it is well in the range of most regular lifters. One of the huge advantages with
SelectTech is small weight increments, 2.5 pound jumps, which is a big plus as it allows you to have many options.
Ideal solution for exercises that require small weight jumps & swift action between your super-sets.
The SelectTech app that you can download for free comes in very handy if you're a beginner to get started & learn about
multiple new exercises, or simply require an overhaul to start a new workout routine. It helps you to get new perspective
& also to build your very own custom workout routine. There's a 6 week challenge program for those interested.
Design is really neat, dumbbells are coated with hard plastic-molding for quiet workouts, paired with ergonomic handles
that are made of metal, covered with rubber that gives very comfortable, good grip. Grip is simply awesome with these.
One of the cons in your eyes might be the size of these dumbbells – They are BIG. They are wide & long since they have
to accommodate the weight changing mechanisms within. However size is an individual parameter & it really depends
on your personal frame – If you're a petite female, they might feel too clunky for you, if you're a bear of man, they might
be cute little toys for you. There's no telling until you have tried to train with these dumbbells.
I am recommending SelectTech 560 Adjustable Dumbbells as long as you know exactly what you're buying. Please do your
research, always check for proper warranty. Be aware of fakes & replicas, seek out reputable vendors to obtain a genuine
set for your convenience & for the best experience possible.

Thanks for Stopping By!
I hope you enjoyed reading my review & learned couple of new things about SelectTech 560 Dumbbells along the way.
Have you used a quick-dial type of dumbbells before? How's your training experience?
I'd love to hear from you!
Feel free to ask for my assistance & share your thoughts by leaving a comment.
Cheers,
Henry