How can you get things better & have healthier hands? How to treat arthritis in hands? How easy it will be?
There are many parts to it & it's excellent if you start asking those questions. It means you're getting ready to make some significant changes to fix things up.
Well, a lot depends on you.. & if you want to make the difference in the long run, you can. First & foremost, you always want do your best to maintain positive attitude.
Dealing with arthritis is rather a process than seeking a sudden change overnight. Fortunately, there are multiple ways how you can boost your hand health.
How to Start Treating Arthritis – Stay Positive & Take Action
Arthritis Can Affect Any Joint in Body but.. How to Treat Arthritis in Hands?
Let's Break it Down into 5 Stages:
1st Step

– Anti-inflammatory drugs – Using both OTC medicine & prescribed drugs if necessary – To get inflammation under control & reduce swelling in tendons, joints & soft tissue.

2nd Step

– Physical therapy – Exercise, exercise, exercise! Once pain is gone, being active helps & is excellent way to go. Muscle is cushion that supports & protects your joints = Less pain.

3rd Step

– Using splints – Doing everything you can to keep good posture & protect joints is a very smart move. It helps your joints to sit in correct position & prevents further injuries.

4th Step

– Corticosteroids – Both oral & injectable. IF previous steps won't help well enough, this is a possible good option & one of the last resorts before surgery to get relief from pain.

5th Step

– Surgery – If nothing else helps, the injury & trauma is causing too much pain & is not responding to regular physical therapy, for various reasons, surgery can be a good option.
In this topic we will be focusing on #2 Physical Therapy
In other words: Things that you can do at Home to improve your hands health
Exercises & equipment that you can use to get better. Warm-up exercises & exercises with equipment.
All the useful moves that you can do at home, to be healthier & hopefully won't have to pay too many visits to doctor.
Maintain a Positive Attitude – It's Effective & Proven Way to Strengthen Your Entire Immune System
It's already scientifically proven way to effectively strengthen your body, including your entire immune system against
arthritis. Having an upper hand is never a bad thing, isn't it? Let's leverage from it.
Having positive mindset not only helps you to stay on track, but gives you an extra boost in anything you do. Remember,
even more importantly, it's essential to pair it up with physical training.
It's important to take action! It's important to set plans, stand up, get going, & keep yourself busy to make a difference.
Will it be easy? No. Will it be worth it? Absolutely.
Ask any rheumatologist out there, & they would tell you that, what you need to do is rest, but not too much.
Go ahead, rest up & then it's time for taking action. No excuses here.
It's good in the long run to prevent further stiffness, fatigue & joint pain. Daily exercises are mandatory.
Doesn't matter how severe your case is, or what type of arthritis you are facing, you're not alone in this &
you can always do something for yourself & improve.
Leverage from More Muscle & Functional Strength
Muscle is Like a Cushion
What we want to achieve here is not getting you on Olympia stage, but to achieve more functional strength.
Every little bit you add goes a long way, to live a full, active life.
You can start with gentle flexibility exercises for warm-up & simple stretching. It's good idea to go from there. Along the way it's smart to accommodate your body accordingly, keep testing, what can you do & how can you do it.
Keep testing, what works for you & what doesn't. It's normal that everybody is a bit different & responds differently to different exercises – Let's discover what works the best for you.
Once you feel better, don't hesitate to add intensity – It's time to step it up with strengthening exercises.
Let's start with warm-up & stretching exercises:
Muscles are designed to protect & reinforce your body. Having more muscle, can result in less joint pain.
More muscle mass helps to take some of the unnecessary pressure off from joints – It acts like cushion for your joints.
Building stronger muscles around your joints can help to protect your tendons & contributes into overall well being.
Stronger & Bigger Muscles are Excellent – They're Like Cushion that Helps to Protect Your Joints
There are plenty of simple, yet effective exercises – Something for every occasion & every taste.
I'll also show you equipment how to strengthen your forearms & grip. Such as rubber-bands & wrist-rollers.
Let's take a closer look at different forms of arthritis – The most common types & how can you recognize them..
Once you know what you're dealing with,
it's much easier to start asking questions & fix yourself up:
So, We Know it's Arhtritis but.. How Many Different Forms of Arthritis Are There?
Over 100 Different Forms of Arthritis
There are well over 100 different forms of arthritis & related diseases. The large number of variety means that each case likely shares similar qualities & at the same time can be quite unique. The Top 8 Most Common Types of Arthritis include: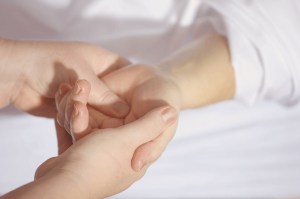 Osteoarthritis (OA),
Rheumatoid arthritis (RA),
Psoriatic arthritis (PsA),
Fibromyalgia (Fibrositis)
Gouty Arthritis (Gout)
Systemic Lupus Erythematosus (SLE)
Back pain related arthritis
Other Musculoskeletal Pain
About 25% people who are affected by these type of related diseases, say that it causes severe pain. Described on a 10 point scale it's 7 or higher. Let's also take a closer & more detailed look on most common types of arthritis:
What Are the Causes & Symptoms of Common Types of Arthritis?
Regardless of What Type of Arthritis You Have.. Being Active is Good..
Start Light & Go from There
Once you get inflammation under control – Exercise, exercise, exercise! This is the possible shortcut to stop arthritis from progressing. Here are some more warm-up exercises & stretches you can do at home, plus some hand training exercies that are paired up with specific grip training equipment, like rubber bands & wrist rollers, that are really easy to obtain.
Always remember, being active is the key to feel better – Start light & go from there.
Pair this up with positive attitude & once you're familiar with the process, do not be afraid to up your game. At this point it will be good time to start looking for additional training equipment that you can pair up with your training routine.
You should always remember, overuse of muscles as well as lack of exercise are both important make or break factors.
What Training Equipment Should You Get to Treat Arthritis in Hands?
Warm-Up, Stretching & A bit Progression
First & Foremost, your training equipment to treat hand arthritis should cover basic warm-up exercises.. something that provides you with plenty of option for versatile & flexible workout. Meanwhile, it should be something that helps you with stretching as well as gives moderate workload to train your hand muscles along the way.
Your hand recovery training tools should also include several different resistance levels so you have a room for progression, or a way to go easier if the one you are using is too much for you. Better if it's on easy side than just overwhelming. Having
a set of tools means having multiple options, so you can achieve your recovery goals quickly & effectively.
Simple Hand-bands are the best ones out there. You should own a pair no matter what.
No better way to build muscle balance & work your hand extensor muscles than using simple rubber hand-bands.
Using hand-bands requires no more than couple of minutes of your time per day.
They're very easy to use, fun & have long term benefits if you're using them on regular basis.
On top of that, rubber hand-bands are very easily portable – Put one around your wrist or throw it into your pocket.
In that way you'll never miss your hand therapy session. You can do it wherever you want, whenever you need to do it.
Rubber Exercise Balls are excellent, universal & one of the most common approaches for hand therapy.
Be it arthritis, dislocated fingers, recovery from stroke or simply weak hands that need tuning up.
Using rubber exercise balls are big part of your regular hand therapy.
You can squeeze, clench as well as do adduction movements with all fingers, including your thumbs.
Rubber exercise balls can be used to build crush grip strength as well as use them to build pinch grip.
Its' great way to tune up your thumb strength & rest of the fingers flexor muscles along the way.
Also highly recommended for warm-up before starting hand gripper training session.
Adjustable Wrist-Roller is very useful. Compared to regular wrist-rollers, adjustable one uses neither rope nor weight plates.
Excellent for rehab purposes. Why?
Because it's designed in the way it moves in one motion, in smooth & safe way.
What does it mean for you? NO SUDDEN MOVES – 100% more safety for you, to prevent further injury.
If there's anything you want to avoid doing with arthritis, it's sudden moves. The more fluent your actions are, the better for your joints.
Adjustable roller resistance levels begin with virtually no resistance, making it great rehab tool in multiple cases.
All Three of These are Excellent Training Tools to Help You to Treat Hand Arthritis
The Key is to Keep Moving – Less Joint Pain, Less Stiffness, More Versatility
Remember to Use Braces, Sleeves & Splints – Excellent Way to Protect Your Joints
Protect Your Joints
Do not miss that one! It's very beneficial to use one. A lot of folks tend to neglect this part for some reason. Don't become
one of those folks. It's already scientifically proven method to help you significantly speed up the recovery process.
1
Promotes Faster Healing
– Helps to keep your joints in secure position that takes pressure off the joints, & as a result leads to less pain & faster healing.
Using sleeve or splint, wrist or elbow brace is like building an additional joint for your existing joints that protects your body & lets overused joints to rest.
Taking the load off from inflamed joint helps to get inflammation down & lets affected joint to heal faster.
2
Offers More Protection
– Helps to keep your joints in secure position that prevents sudden moves & more demanding activities to cause further injuries.
If anything at all, avoiding further complications should be your top #1 priority. Avoiding additional traumas through protection is smart.
In addition to healing, using splint-like devices help you
to keep symptoms from progressing.
As each case is unique, you should go ahead & give it a try to several different products to see which one is working for you.
Brace or sleeve should be comfortable, tight enough to secure the position, but it also shouldn't squeeze arm too much.
It's important that you try to find the balance, to make it effective for you. Whether you go with brace, sleeve or splint..
It would be wise to invest into one of these devices & see which one accommodates your body in most beneficial way.
If Exercising.. Your #1 Priority Should Be On Muscle Balance
Many Folks, if not Vast Majority, Have Unbalanced Forearm Muscles.. Why?
Work Your Hand Extensors
Vast majority of folks NEVER work on their forearm extensor muscles – This is a recipe for disaster.
If we throw arthritis on top of it, it's adding fuel to the fire so to speak.. in a very bad way. How to fix this problem?
The solution couldn't be more simple – Exercise with simple rubber hand-bands. They're inexpensive & easy to obtain.
If physical therapy is something you're able to do, this can be a great way to go to reduce pain caused by arthritis.
Muscle Balance – This is the absolute #1 priority if we're talking about getting stronger & healthier hands.
More balanced muscles in hands help to take pressure off the joints
Equalized muscle leads to less pain, because muscle acts like a cushion for your joints
Thanks for stopping by!
I hope you enjoyed reading this topic & learned something new about How to Treat Arthritis in Hands along the way.
Have you used any of these training methods AND equipment before? Whats your training experience alike?
I'd love to hear from you!
Feel free to ask for assistance & share your thoughts by leaving a comment.
Cheers,
Henry