Product: Core Fitness Adjustable Dumbbells (Pair)
Rating: 4.7 out of 5 stars
Price: expensive/pricy
Place to Buy: Amazon

View Pricing On Amazon
Adjustable –  5 to 50 lbs/2.26 to 22.67 kg each
Space Efficient – Excellent Solution for Home Gym
Rapid Weight Changes – Switch Exercises Quickly
Unique Dial System – Combines (10) Sets of Weights
Core Fitness Adjustable Dumbbells - The Most Compact Adjustable Dumbbells With Rapid Weight Change Dial
Uses Twist-Lock Technology to Change Weight By Using 1 Hand Only
Core Fitness Adjustable Dumbbells by Core Fitenss
Product Overview
Core Fitness dumbbells are the most compact adjustable dumbbells available that use rapid weight changing dial.
This it one of the ultimate strong points of these dumbbells, they're space savers & due to being smaller in nature
they're much more comfortable to use. Compared to BowFlex series adjustble dumbbells, that are huge in comparison,
Core Fitness adjustable dumbbells are the exact opposite, giving you as much weight as possible within limited space.
Core Fitness dumbbells use 5 pound weight increments up to 50 pounds & combine in total 10 sets of dumbbells
Changing weight is exceptionally swift with these dumbbells – Simply twist the handle to change the weight to your
liking. No need to spend several minutes changing weight that is common chore with traditional dumbbells. The
weight indicator is on the top of dumbbells, near the handle in very visible spot for your convenience.
Handles are contoured & textured, giving a soft grip handle that are awesome to squeeze & gives secured grip.
It's an excellent solution for home gym – Helps you to save a ton of space, replaces an entire rack of dumbbells &
therefore will be a much cheaper option at the same time than to buy multiple dumbbells individually. Dumbbells
are colored black, sturdy & have their own weight stands. Manufacturer offers a 2-year warranty on parts.
What are the Pros & Cons with Core Fitness?
Rapid Weight Change
Pros:
Quick Weight Changing Mechanism – Changing weights rapidly is a specialty feature of Core Fitness adjustable dumbbells that allows you to switch weights within seconds. It's extremely useful if you need to switch from one set to another within a moment without taking any extensive & time consuming weight changing breaks.
Twist-Lock to Change Weights With 1 Hand – Core Fitness uses a twist-lock, quick weight changing mechanism technology that allows you to change weight settings with 1 hand – Simply set dumbbell in the cradle, twist the handle & weight changes quickly & safely.
A Huge Space Saver for Home Gym – Replaces an entire rack of dumbbells for you, up to 20 dumbbells that provides you an access to a wide range of different weight settings. A good solution to avoid having dozens of dumbbells lying around & cluttering your home floor.
Small Weight Increments – There are 5 pound weight increments up to 50 pounds. Small weight increments are beneficial if you intend to use super-set type of routine in your workout that requires multiple small weight jumps.
Compact Design – It's the most compact adjustable dumbbell available on the market that uses a rapid weight chaning mechanism.
Precision Engineering – These dumbbells are very well built, they're sturdy & deliver you the highest quality.
Comfortable Grip – You can make good use of contured & textured handles that are giving you an awesome, secured grip.
Very Easy to Assemble – Fresh out of the box it takes less than 5 minutes to assemble these dumbbells & you can start your exercise.
Comes With Warranty – Manufacturer offers 2-year warranty on mechanical parts.
Saves Your Money – It's a cheaper solution for you to get a single set of Core Fitness dumbbells instead than buying an entire rack of dumbbells separately.
Cons:
Sturdy yet Delicate – No dropping of these dumbbells! Core Fitness dumbbells are the most convenient solution with rapid weight changing mechanism yet they tend to be the least durable of the bunch. If you have such "bad" habits like dropping weights know that Core Fitness dumbbells lifespan will be greatly reduced & over time they will wear down quickly & eventually break if you keep dropping them.
Difficulties to Separate Weights From Beddings – In some cases, it tends to happen that weights don't separate from base if setting is 35 pounds or higher. A simple solution to it would be to secure the weight beddings, so you won't be lifting your dumbbells with their own individual weight stands.
Knock-Off Alert – There are mixed feedbacks, most folks are very happy, meanwhile some people report that their set just fell apart – Please, pay attention to details to confirm it indeed is a genuine set of Core Fitenss Dumbbells that you received not some random replica. Check for approved, trusted distributors to avoid the hassle of returning a faulty product & to be aware of fake sets that are being sold.
Core Fitness Adjustable Dumbbells - Ranking 94 out of 100
What are the Possible Exercises You can Perform with Core Fitness?
Train All Major Muscle Groups
Leg Exercises:
Wide squats
Calf raises
Stationary lunges
Stiff-leg dead lift
Reverse lunge
Side lunge
Abdominal Exercises:
Ab crunch
Reverse crunch
Lying trunk rotation
Twisting side crunch
Lying leg raise
Chest Exercises:
Flat chest press
Incline chest press
Flat fly
Incline fly
Decline chest press
Back Exercises:
Alternating rows
Wide row
Dead lift
Shoulder Exercises:
Standing shoulder press
Lateral raise
Seated overhead press
Front raise
Rear delt row
Shrugs
Arm Exercises:
Standing curls
Concentration curls
Incline bench curls
Scott curls
Overhead triceps extension
Triceps kickback
Lying triceps extension
Hammer curls
Core Fitness Dumbbells Use Twist Lock Mechanism – Change Weight With 1 Hand
The Most Compact Dumbbells Available on the Market that Use Rapid Weight Chaning Mechanism
Dumbbell Weight Increments: adjusts in 5 lb increments up to 50 pounds
Weight (Each): 50 pounds / 22.67 kg – Weight Range: 5 to 50 lbs (2.26 to 22.67 kg) for each dumbbell
Weight Settings in pounds: 5, 10, 15, 20, 25, 30, 35, 40, 45 and 50 pounds
Weight Settings: 10 –  Combines 10 sets of weights into one, using a unique dial system
Dumbbell Dimensions (Each): 14.5 inches long, 7.5 inches wide & 7.5 inches tall
Dumbbells total Weight: 100 pounds
Shipping Weight: 110 pounds
Warranty: 2-years warranty on parts
Manufacturer: Core Fitness (USA)
Core Fitness Dumbbells are ideal Strength Workout Solution for Home to Save Space
Combines 10 sets of Dumbbells into One by Using a Unique Dial System
Accommodate Your Core Fitness Dumbbells Efficienty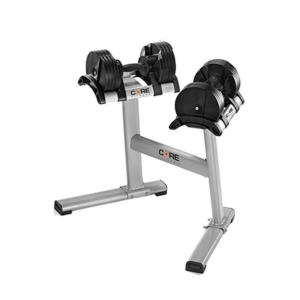 Dumbbell stand for Core Home Fitness Adjustable dumbbells
Enables user to change weights quicker
Ergonomically designed to help you to pick up heavy weights & protect your lower back
Verdict – Should You Get A Pair of Core Fitness Dumbbells?
They're Well Engineered
If it has to have quick change dial & it must be very compact, Core Fitness adjustable dumbbells are the best ones.
They are way smaller in size than SelectTech dumbbells for example, if you're looking for that kind of feature.
I know many people are in trouble using SelectTech for that very reason, Core Fitness eliminates that for you.
Many folks love these dumbbells over any other brand available out there exactly for these two reasons alone.
I like the black color, stylish design approach & even more the functionality this set puts out. Being flat on the ends
is very beneficial to get your set started or finished, as it helps you to rest dumbbells on you thighs. Once you start
to exercise you'll quickly realise how important that actually is. Less injuries & more comfort for you.
Weight increments go up by 5 pounds. This is not one of the strongest points of Core Fitness, this is where both
SelectTech & PowerBlock adjustable dumbbells shine over this product since they offer 2.5 pound weight
increments. If you are fine with 5 pounds jumps, no problem for you
However, Core Fitness uses twist-lock mechanism, which means you can change weights by using one hand only.
Core Fitness dumbbells are mostly made out of metal, consisting very few plastic parts. They're sturdy, however do
not throw dumbbells on the ground or you might end up breaking the delicate weight changing system. Please note
that these are the least durable of the bunch, if you need indestructible ones, go for PowerBlock dumbbells instead.
I am recommending Core Fitness adjustable dumbbells as long as you know exactly what you are buying. Please
do your research & always check for proper warranty. This company offers 2 year warranty on dumbbells parts,
this is a good sign towards quality item & indicates this company stands behind their product by offering support.
Thanks for Stopping By!
I hope you enjoyed reading my review & learned couple of new things about Core Fitness Dumbbells along the way.
Have you used a quick-dial type of dumbbells before? How's your training experience?
I'd love to hear from you!
Feel free to ask for my assistance & share your thoughts by leaving a comment.
Cheers,
Henry