Product:

PowerBlock Sport 24

 Dumbbells (Pair)
Price: from $149.99 (varies depending on set)
Best Place to Buy:

Ama

z

on

Rating: 4.3 out of 5 stars
---
Short Product Description:
---
Adjustable –  3 to 24 lbs/1.36 to 10.88 kg each
Space Efficient – Excellent Solution for Home Gym
Extra Compact – Smaller than Traditional Dumbbells
Selector Pin – Combines 8 Sets of Weights
The World's Most Compact Dumbbells - PowerBlock Sport 24 - Engineered for Maximum Balance & Control
Compact, Incredibly Sturdy & Combines Up to 8 Sets of Weights
PowerBlock Sport 24 Adjustable Dumbbells by PowerBlock
Product Overview
PowerBlock Sport 24 adjustable dumbbells are for sure one the most compact dumbbells you're going to find.
They are way smaller than your traditional dumbbells & for maximum space efficiency, I'd say these are your
go-to dumbbells. They are cost effective & combine up to 8 pairs of dumbbells or 216 pounds of free weights in
the space of just 1 set of dumbbells.
This 24 pound dumbbell set adjusts from 3 to 24 pound per hand & uses as little as 3 pound increments.
Exactly like other PowerBlock dumbbells, this one as well uses a weight selector pin. It makes changing weight
easy & incredibly fast – Simply pull the pin out & slap it back in on the weight you want to use, you're all set.
Many folks say it's even easier to change weight with these dumbbells than with BowFlex series dumbbells.
You can make good use of Sport 24 rubberized handles that feel great in hand & are awesome for secure grip.
PowerBlock Sport 24 smaller size is patented design & it's engineered for maximum balance & control. For you
it also mean more comfort & less injuries along the way. There's no wobble or rattle inside of these dumbbells,
plus they're flat on ends – That is another nice feature to enable you to rest dumbbells on your lap between sets.
Like other PowerBlock dumbbells, it's sold as pair. Manufacturer also offers you a limited 10 years warranty.
What are the Pros & Cons with PowerBlock Sport 24?
Stable, Compact & Sturdy
Pros:
Quick Weight Changing Mechanism – Simply pull the pin out & slide it right back in on the weight you want to use. Super easy to use & fast.
Saves Up Space for Your Home Gym – One of the most compact dumbbells you're going to find on market. PowerBlock Sport 24 are excellent if you only have a little space spare for your training equipment.
Small Weight Increments – There are as little as 3 pound increments. Small weight increments are important for example if you intend to use an intense, super-set type of routine in your workout that requires multiple small weight jumps.
Saves Your Money – Great way to save money on dumbbells, PowerBlock Sport 24 or 216 pounds worth of free weights. You can replace entire rack of dumbbells & it will be cheaper for you than buying these dumbbells individually.
Built Like Tank – These dumbbells are incredibly sturdy & compact, making them reliable pieces of equipment for your home gym. If you don't want to keep changing broken equipment all the time, these are dependable workhorses for years to come.
Flat on the Ends – Makes it easy to rest these dumbbells on your thighs between sets. It's extra nice feature if you're doing incline bench press or shoulder press: You can rest PowerBlock dumbbells on your thighs & lift them from there to start your exercise. After you've finished your set you can bring dumbbells back on your thighs making the whole exercise process much more comfortable & smoother. Plus it helps to prevent injuries.
Great Grip, Protects Your Wrists – PowerBlock Elite dumbbells have comfortable grip & a cage-like handle area that protects both your hands & wrists. As a result you don't have to squeeze the handle so much & it becomes effective for lifting bigger weights while supporting your grip. In that way your wrists are always in correct position & dumbbells more stable during the lift.
Long Warranty – Manufacturer offers 10 year warranty.
Cons:
Requires Solid Ground to Change Weight – This is one of the minor concerns with these dumbbells, you might be unable to insert weight pin in correct position if your dumbbells are placed on carpet etc.
Weight Changing Pin Can be Hassle – If you're new to this, it takes a bit practice to get it right. If you're used to it, no problem. You must be careful to insert weight changing pin correctly into its proper, intended slot.
Some Problems With Customer Service – Some people have complained about receiving 1 dumbbell only. That is a shipping problem & if it happens to you don't hesitate to contact Amazon customer service & ask for your other dumbbell. Usually it easily solves the problem. Note that PowerBlock dumbbells are sold as a pair, however dumbbells might ship in multiple boxes.
PowerBlock Sport 24 Dumbbells - Ranking 86 out of 100
What are the Possible Exercises You can Perform with PowerBlock Sport 24?
Train All Major Muscle Groups
Leg Exercises:
Wide squats
Calf raises
Stationary lunges
Stiff-leg dead lift
Reverse lunge
Side lunge
Abdominal Exercises:
Ab crunch
Reverse crunch
Lying trunk rotation
Twisting side crunch
Lying leg raise
Chest Exercises:
Flat chest press
Incline chest press
Flat fly
Incline fly
Decline chest press
Back Exercises:
Alternating rows
Wide row
Dead lift
Shoulder Exercises:
Standing shoulder press
Lateral raise
Seated overhead press
Front raise
Rear delt row
Shrugs
Arm Exercises:
Standing curls
Concentration curls
Incline bench curls
Scott curls
Overhead triceps extension
Triceps kickback
Lying triceps extension
Hammer curls
PowerBlock Sport 24 Dumbbells Uses 3 Pound Weight Increments
PowerBlock Sport 24 Adjustable Dumbbells Combines up to 16 Dumbbells into One

Dumbbells adjust from 3 to 24 lbs; adjusts in 3 pound increments up to 24 pounds
Weight (Each): 24 pounds: Weight Range: 3 to 24 lbs (1.35 to 10.88 kg) for each dumbbell
Weight Increments in pounds: 3 , 6, 9, 12, 15, 18, 21, 24 pounds
Weight Settings: 22/28/34 –  Combines 8 settings of weight per dumbbell into one
Dumbbell Dimensions (Each): 10.5 inches long, 5.25 inches wide & 5 inches tall
Shipping Weight: 49.5 pounds (for 2 x 24 pound dumbbells)
Warranty: Manufacturer offers a 10-year limited warranty
Manufacturer: PowerBlock (USA)
PowerBlock Sport 24 is Ideal Strength Workout Solution for Home to Save Space
Engineered to be Compact & Smaller Than Than Traditional Dumbbells

Accommodate Your PowerBlock Sport 24 Dumbbells Efficienty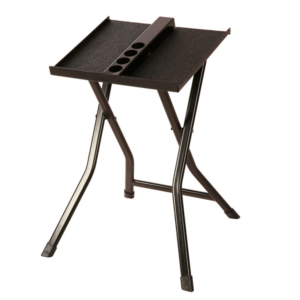 Provides a convenient storage & racking system for your PowerBlock Sport 24 Dumbbells
Durable dark grey steel construction
Folds easily flat for portability & storage
Compatible with all PowerBlock set-up up to 50 pounds (small rack) or up to 90 pounds (large rack)
Has adder weight ports on the top of the stand for PowerBlock models that use adder weights
Stand has a foot print of 20″ x 18″ & a height of 26″ (large) or height of 24″  (small)
Verdict – Should You Get A Pair of PowerBlock Sport 24 Dumbbells?
They're Amazing
These are hands down one of the best fitness purchases you're ever going to make. I like that these dumbbells
are way smaller than your traditional dumbbells that is making them much more compact. Absolutely nice
addition to home gym since they save you a ton of space. No need for entire rack of dumbbells, only one set.
Like all other PowerBlock dumbbells these as well are incredibly sturdy, well built & very hard to break.
Being more compact also means PowerBlock Sport 24 dumbbells are more stable to lift & more comfortable
to hold in your hands. This means you are less likely to injure yourself while working out & being healthy
is always the name of the game if you aim for longevity. Less set-backs & more progress.
The only thing that might be concerning is that you need to put these dumbbells on solid flat ground if you
want to pin the weight correctly. It's probably one & only minor problem with these dumbbells.
However, switching from one set to another set is incredibly easy. To change weight simply pull out the pin
that holds the weights in place & slap it back in on different weight level & you're good to go. It saves you a
lot of time compared to regular dumbbells that usually require several minutes of your time to switch weight
Overall, I highly recommend PowerBlock Sport 24 dumbbells. Please do your research & always be on guard
for replicas. Avoid cheap knock-offs & always seek out a reputable vendor to get the high quality stuff.

Thanks for Stopping By!
I hope you enjoyed reading my review & learned couple of new things about PowerBlock Sport 24 Dumbbells along the way.
Have you used these types of adjustable dumbbells before? How's your training experience?
I'd love to hear from you!
Feel free to ask for my assistance & share your thoughts by leaving a comment.
Cheers,
Henry