Description
IronMind Egg – Great way to "fill the gap" between workouts. Squeeze it as gently OR as ferociously
as you'd like for light grip workouts, repping out or max effort meanwhile giving your palms active rest.
You can use it to relieve stress throughout the day & it also has great use for your off days as part of your
active rest regimen to speedy recovery. It's made of 21st-century polymer.
Retains its shape & is easy on the soft tissue of your hands
Keep your fingers, forearms & hands healthy – A key tool for achieving strong & pain-free hands
Enjoy active rest – Great tool for off-day, light-workout when your hands are sore
You can use it to speed up your recovery in between your heavy training sessions
Exercise ball is useful for recovering from surgery – Very helpful & useful for prehab & rehab
Excellent for warmup & cooldown when training with your Captains of Crush or IMTUG Grippers
Helps to relieve stress – Work off nervous energy & even lower your blood pressure during the day
It's high-quality – It doesn't have those nasty smells that the cheap eggs leave on your hands
Also a very durable product – It's all quality, well-made, like the rest of the IronMind's products
There are 2 Versions of Polymer Eggs by IronMind
Which One is for You?
IronMind Egg – Green "1-Minute Egg" – Softer – Perfect for rehab & everyday conditioning.
Wider dynamic range while squeezing it & right size firmness for a beginner to intermediate in hand strengthening.
IronMind Egg – Blue "3-Minute Egg" – Firmer – Blue Egg has an appropriate place as a firmer alternative to the Green Egg.
It's great if you prefer a stiffer feel, although it still has a useful amount of give.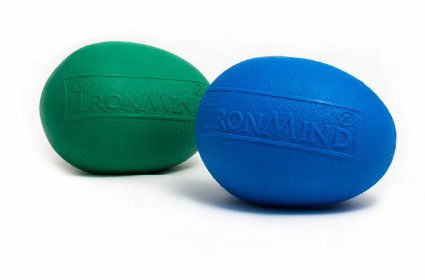 IronMind Egg feels great to squeeze – It's very useful for warming up
at the beginning of your grip workout.
Grab an IronMind Egg if you're looking for a great alternative for grip workouts that don't
call for anything quite so macho as a Captains of Crush Gripper.